Disclosure: I only recommend products I would use myself, and all opinions expressed here are our own. This post may contain affiliate links that, at no additional cost to you, I may earn a small commission. Read our full privacy policy.
Charcuterie boards are so pleasing to the eye and the taste. With a few added touches from the dollar store you can make the perfect Halloween charcuterie board for your Halloween crowd!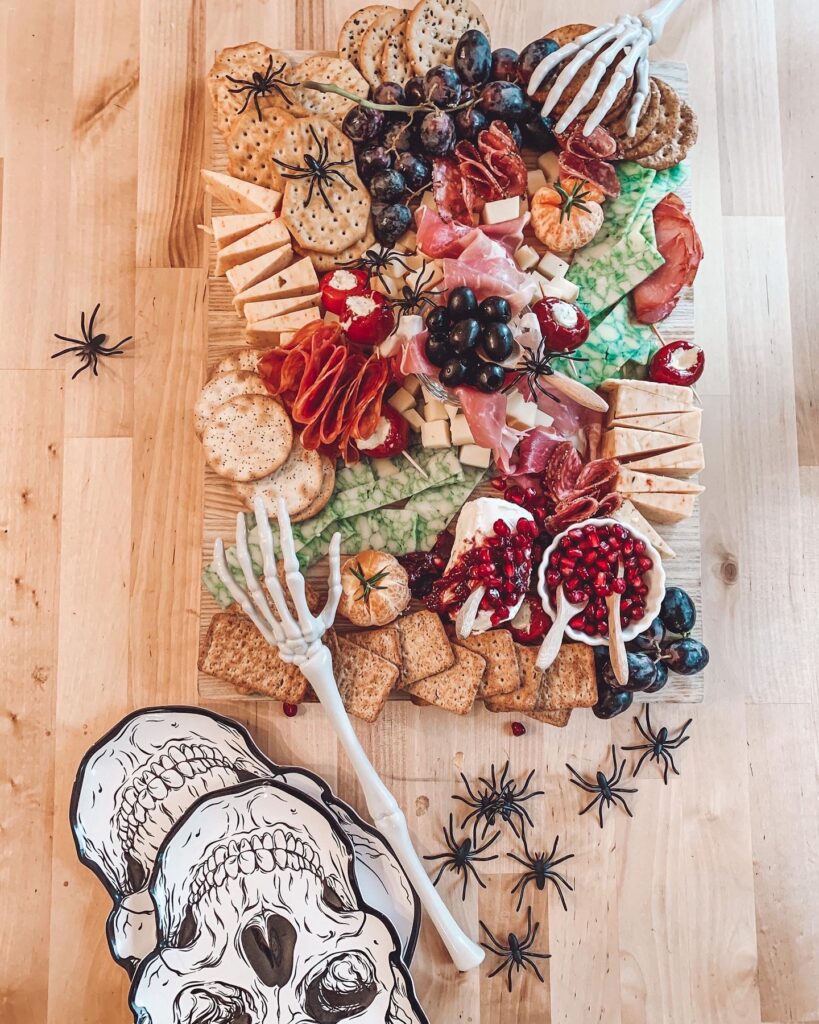 Things you'll need to make a Halloween Charcuterie Board
1. Board
I love to use my biggest cutting board because there's never enough space when crafting a cheese board! For this I used a 20×18 butcher block cutting board. Here's a wooden cutting board that would work for this. But really any food safe surface that can be picked up and transport works perfectly. And once the space is filled you cant even tell what it is underneath all the delicious meats and cheeses.
2. Bowls/Saucers
Adding height and dimension will elevate the looks of your charcuterie board and allow you to add so many more fun accoutrements alongside your cheese and meats. For example, a little dish with honey, jam, or mustard and a small spoon to serve or a bowl with pomegranate seeds or olives as you can see in the photo of my Halloween Charcuterie Board.
My pro tip to fining unique and perfectly sized saucers and little dishes is to take a trip to your local thrift store! Most of my finds are from Good Will. You'll be amazed at what you can find and the low prices.
3. Cheese, Meat, Crackers
If you want to make an epic charcuterie board for as little amount of money as possible, Aldi or Trader Joes will be where you need to go. They have assorted packages of meats and crackers for low prices and a huge variety of fun cheeses! Depending on the size of your board I would choose between 3-5 different cheeses. Usually 3 variations is more than enough. However, if you're like me and totally obsessed with cheese it can be hard to choose between all the different flavors and textures so you end up with way more than you needed.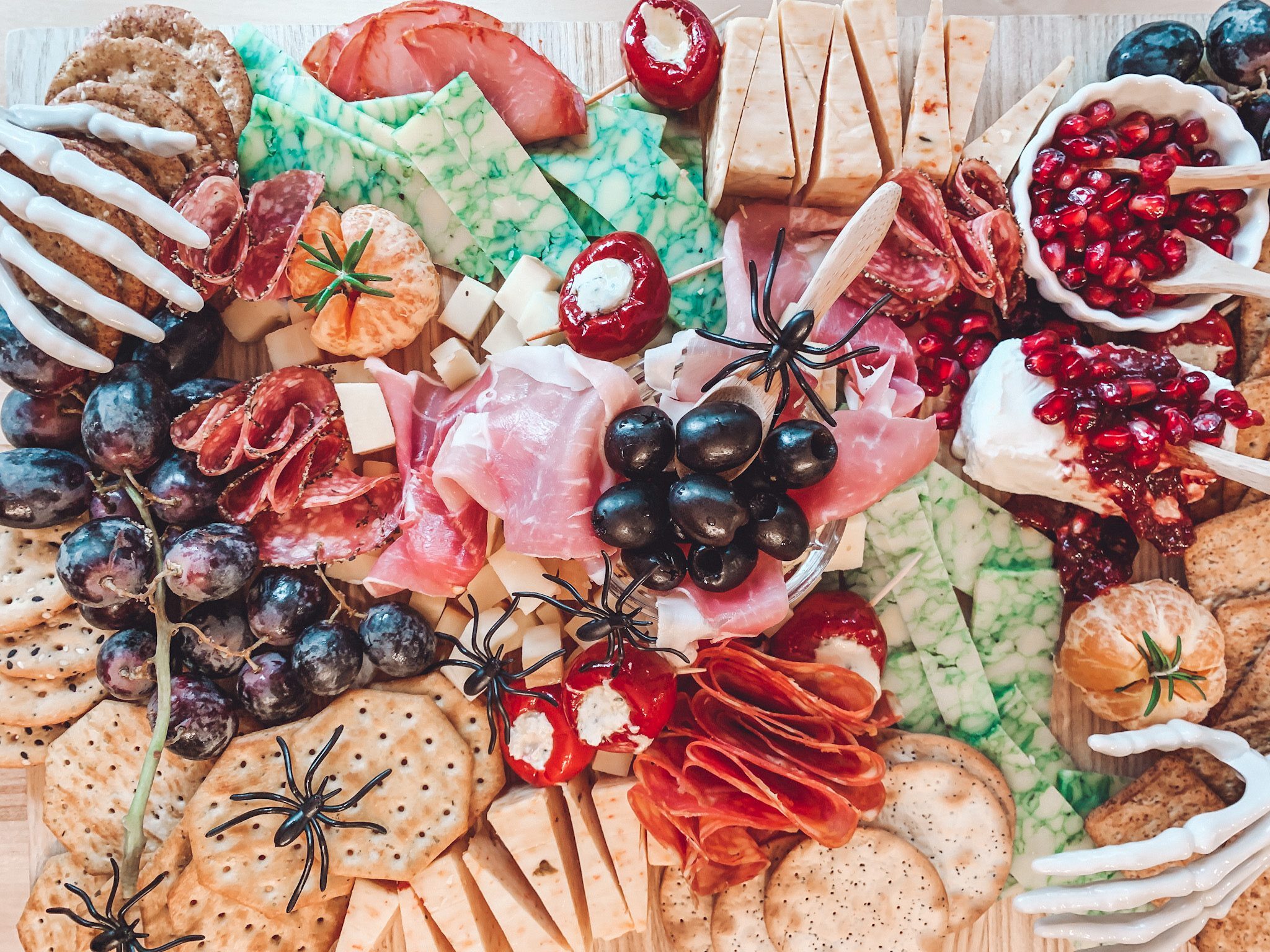 Choose 3 different types and textures of cheese.
*I will usually choose a hard cheddar for a crowd pleasing classic, a soft smoked gouda and a creamy goat cheese log.
Choose 2- 3 different cured meats
*Other options: Summer sausage, prosciutto, deer sausage, peperoni etc.
Choose 3 different types and textures of cackers
Aldi has a great pack of 3 different crackers in one box. I typically will get the variety box when making a charcuterie board because people love variety in crackers but you typically don't need three boxes of crackers for one charcuterie board so you end of having tons of crackers leftover.
Halloween Charcuterie Board Extras
On this board there are a few extra touches to give this board that spooky Halloween party ready look.
Dollar Tree finds: The plastic spiders and the skeleton hands and plates were all purchased the Dollar Tree for a whapping $4. The Dollar Tree always has little holiday finds that you can use on the board.
Clementine Pumpkins: These were made by simply adding a small sprig of rosemary to the top of peeled clementine's. You can use any greenery for this. Examples lettuce, spinach, green onion, herbs.
Bloody Goat Cheese Log: I added raspberry jam to the top of a goat cheese log and added pomegranates for a grotesque look.
Assembly!
Start by cleaning the cutting board or surface.
Place the little sauce dishes or any other vessel that your are adding to the board.
Slice cheese. Make sure to cut each variation of cheese a different way (cubed, triangles, crumbled etc).
Add cheese to the board.
Add meat to board. Fold and gather the meat together when placing on the board so it will be easier to grab.
Add fruit to the board. Clean all fruit before serving. To make it easier to eat, detach fruit from stems, peel, or slice before placing on board.
Add jams, honey, mustards to the small dishes. If you have little spoons to add to the dishes for serving, that's a bonus. A small spreading utensil placed by the board is also sufficient.
Add the crackers. The crackers can spill over the sides and should fill in all gaps.
Make sure there are no gaps or any surface of the board showing.
Add garnishes and extras. Add your holiday extras (spiders, skeleton hands) or garnishes (edible flowers, herbs etc.).
Serve and enjoy!! Cocktail napkins or small plates can placed near the board.
Amazon Items for a Halloween Charcuterie Board
Meet Emily
Hi I'm Emily! The foodie behind Making it Midwest 🙂
What you're going to find on this mid-American food blog is well balanced recipes for any occasion but especially if that occasion is that you have no idea what to make for dinner! Check out my recipes and if you're a fellow foodie, find me on Facebook, Instagram, and TikTok to chat all things food!
Thanks for being here 🙂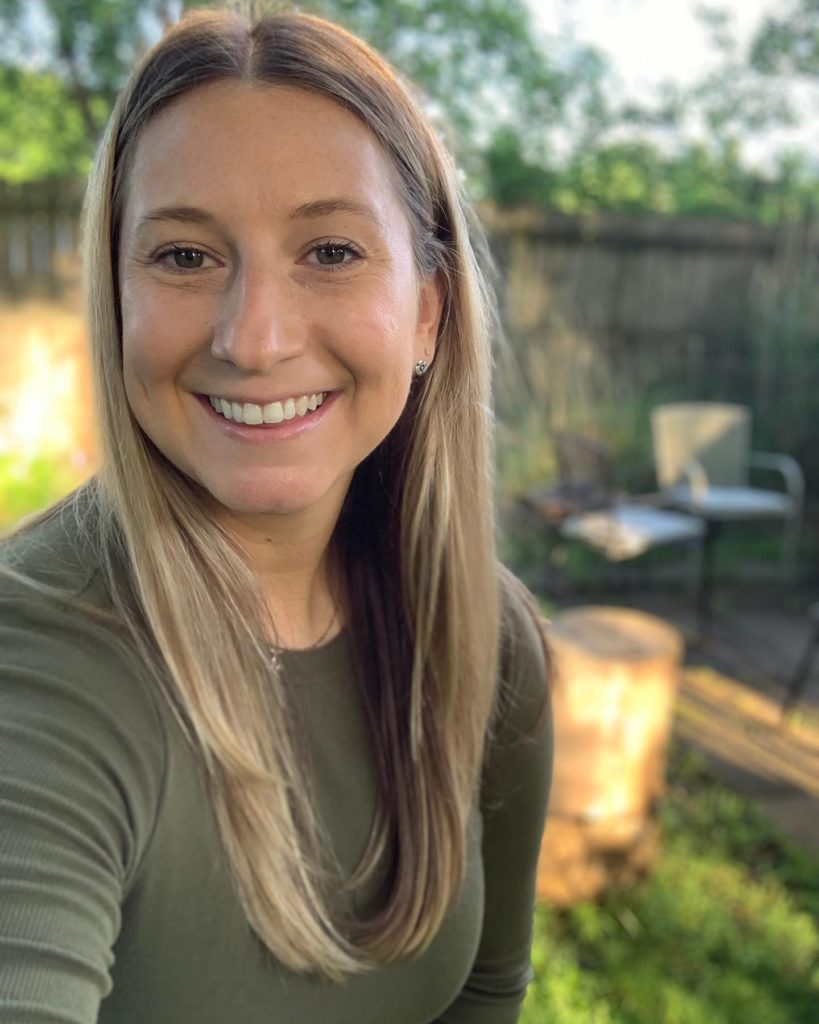 More Posts to Check Out